Two local companies team up to revamp a mobile forensic laboratory.
LumaStream designs and manufactures low-voltage LED Lighting systems. The National Forensic Science Technology Center (NFSTC) creates deployable forensic laboratories from standard ISO shipping containers. Together, they have redesigned NFSTC's mobile laboratory to include the latest in lighting technology.
Within six hours, LumaStream replaced the old and cumbersome fluorescent lights with their low-profile LEDS capable of providing dimmable low-voltage lighting, previously unavailable in mobile labs. By switching to the low-profile LEDs, NFSTC reduced the total weight of the lab by 300 lbs., which saves on shipping costs when deployed, and increased the labs light output by 40 percent.
"Proper lighting is critical in forensic analysis work. Working with LumaStream will bring the next big leap of improvement to our mobile labs," says Kevin Lothridge, CEO of NFSTC. "We always look to partner with local companies first, and having LumaStream design and build these lights right in our back yard is a great opportunity."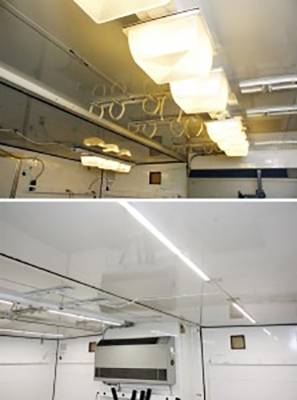 Deployable forensic laboratories are an efficient and fully-customizable way to provide forensic capability expansion in combat situations and/or forensic capabilities after a natural disaster or other crisis. They can be used for many disciplines including temporary DNA labs, fingerprint stations, or a chemistry analysis center. NFSTC has been constantly updating their design since 2007 to improve performance and durability.
"We're excited to work with NFSTC to help them create the next generation of deployable forensic laboratories," said Eric Higgs, president and CEO of LumaStream. "Our lighting technology is incredibly durable and long-lasting. If this lab is in a remote location, a lighting failure is not an option."
The redesigned lab will be used for training and demonstration of new technologies.
Remarks : The source of news from http://www.ledinside.com/news