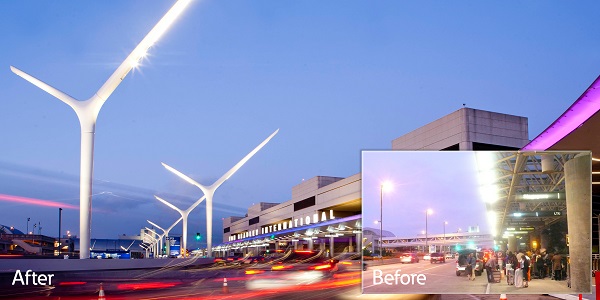 The LED technology that were installed to Los Angeles International Airport consumes 48% less energy compared to the previous high- pressure sodium lights. (Photo Courtesy of Eaton)
Power management company Eaton today announced it's helping to improve optical performance and energy efficiency at the Los Angeles International Airport (LAX) Central Terminal Area (CTA). As part of the first and second phases of the 118-million LAX Curbside Appeal and Roadway Improvement Project, Eaton played a pivotal role in revamping the exterior curbside lighting using its light-emitting diode (LED) technology with each new street lighting pole consuming 48 percent less energy than the previous 33-year-old, high-pressure sodium lights they replaced.
"Los Angeles is a progressive city that is constantly innovating and in flux. The team sought a design that would be forward-thinking and inspirational but simple enough to be timeless," said Horton Lees Brogden Lighting Design (HLB) Senior Design Principal Teal Brogden. "Eaton's customized LED technology has been pivotal to the success of the design, enabling discrete integration of light and architecture."
A team from HLB, of Culver City, California, and architect AECOM, headquartered in Los Angeles, chose Eaton's LightBAR™ LED optical technology because of its asymmetric roadway distribution and narrow linear design for the highly customized, double-arm Y-shaped, contemporary luminaire. Uniquely installed in each of the two arms to illuminate different levels and areas of the roadway, the technology met the roadway lighting requirements (average 2.5 footcandles) and provides uniform illumination for both the Upper/Departures and Lower/Arrivals levels at the airport, which serves 70.7 million passengers annually.
"We're proud our LightBAR™ LED technology has helped to dramatically improve the traveler experience at LAX and that the roadway-approved technology could meet the challenging optical needs for this innovative custom street lighting project," said Kraig Kasler, president, Eaton's Lighting Division.
The 91 new LED street lighting products each consume only 413 watts compared to the 78 previous 920-watt high pressure sodium (HPS) fixtures. The upgrade results in approximately 48 percent reduction in power consumption per fixture. The energy reduction afforded the opportunity for airport officials to add additional architectural LED accent fixtures to highlight the new unique poles. In addition, the new streetlights can also be controlled and dimmed, presenting the possibility for additional energy savings.
With the first phase of 13 fixtures installed in 2013 in time for the unveiling of the 1.9 billion new Tom Bradley International Terminal, the team has now completed the final phase of an additional 78 fixtures. The LAX CTA Curbside Appeal and Roadway Improvement Project is part of an ongoing 8.5 billion LAX Modernization Program.